Wool + Cotton Herringbone - Niagra
$4.00
Sale price
Wool + Cotton Herringbone - Niagra
$4.00
Sale price
Order Quantity Info
All fabric is sold in 0.1 Metre increments.
Enter quantity in

Metre

s separated by a decimal, e.g. 1.2

Meter
Studio + Pick-up
Are you local to Edmonton, Alberta? Or in the area? We invite you to use our order pick-up option, or come take a look in person at the fabrics & patterns before making your final selections.
Samples
Looking for a sample? Drop us a line and we'll send a small swatch by untracked letter mail.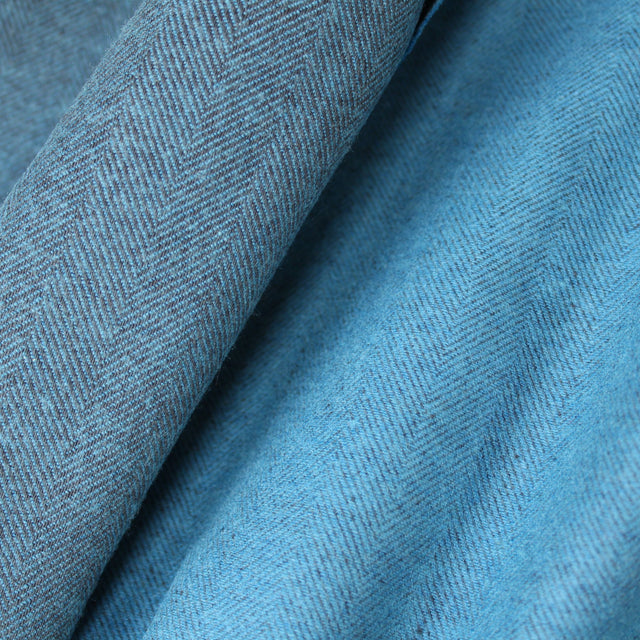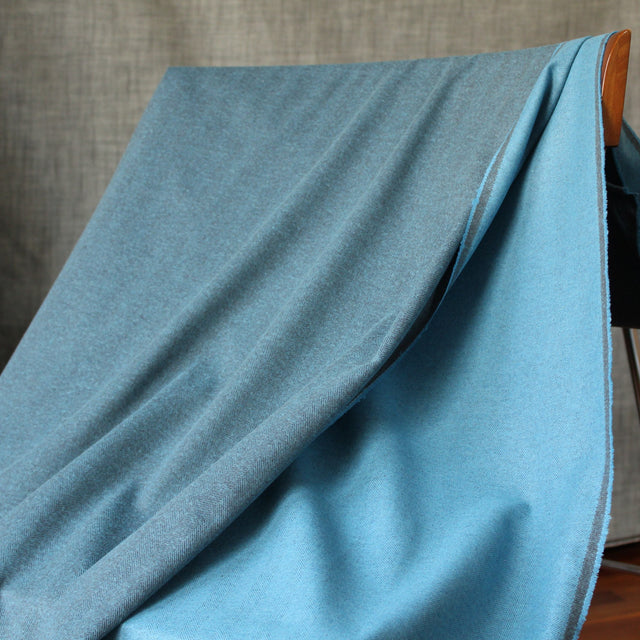 This fabric impressed us right away with its two-toned, double-sided herringbone pattern.  Coming from the Zuleeg mills in Germany, it is comprised of 45% cotton, 41% wool, and 14% polyamide.
Suitable for a structured dress, blazer, "flannel" shirt, pair of pants, or jacket, it is a lighter-weight wool and is quite soft due to the cotton content.  One side is a sky blue, in contrast to the other where the charcoal warp is more pronounced and shows off the herringbone pattern, perfect for accent details!
Key Information
Zuleeg
Zuleeg have been producing high-quality textiles in Germany for a century. They are part of the German Textile Alliance, established to advocate for a socially responsible and ecologically sustainable clothing supply chain. Zuleeg's production processes are developed with sustainability in mind and implement sustainable manufacturing practices including wastewater use, water recycling, emission reduction through heat recovery, and waste avoidance. Weaving, dying, equipping and inspection are all carried out within a 10-kilometer radius.
Dimensions + Weight
width: 150cm (59in)
weight: 280g/sqm (8.3oz/sqy)
stretch: 0%
Fiber Content + Care
45% Cotton + 41% Virgin Wool + 14% Polyamide
We recommend always pre-washing your fabric in the same manner as you intend to wash the finished garment.
For best garment care + longevity + sustainability we recommend: Hand wash with cold + dry flat, we do not recommend tumble dry.
May we suggest:
Closet Core - Jasika Blazer
Helen's Closet - Cameron Shirt
The Sewing Revival - Sidewinder Pant
This product is available.