Merchant & Mills Indian Cotton - Portland Navy
$1.88
Sale price
Merchant & Mills Indian Cotton - Portland Navy
$1.88
Sale price
Order Quantity Info
All fabric is sold in 0.1 Metre increments.
Enter quantity in

Metre

s separated by a decimal, e.g. 1.2

Meter
Studio + Pick-up
Are you local to Edmonton, Alberta? Or in the area? We invite you to use our order pick-up option, or come take a look in person at the fabrics & patterns before making your final selections.
Samples
Looking for a sample? Drop us a line and we'll send a small swatch by untracked letter mail.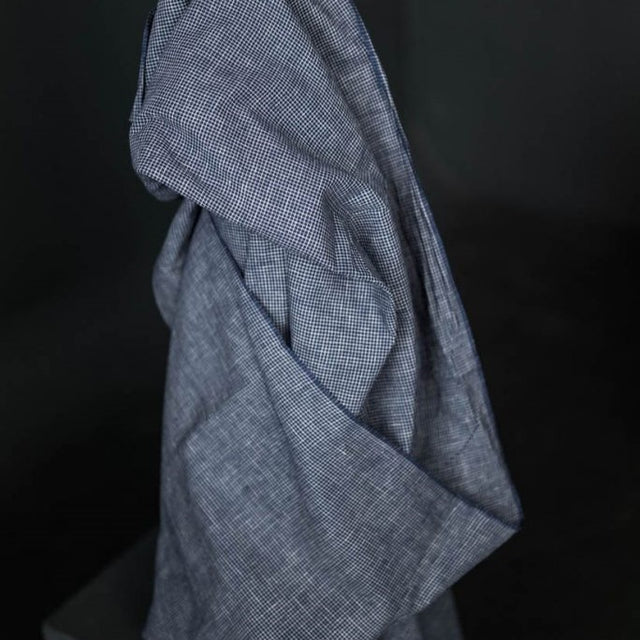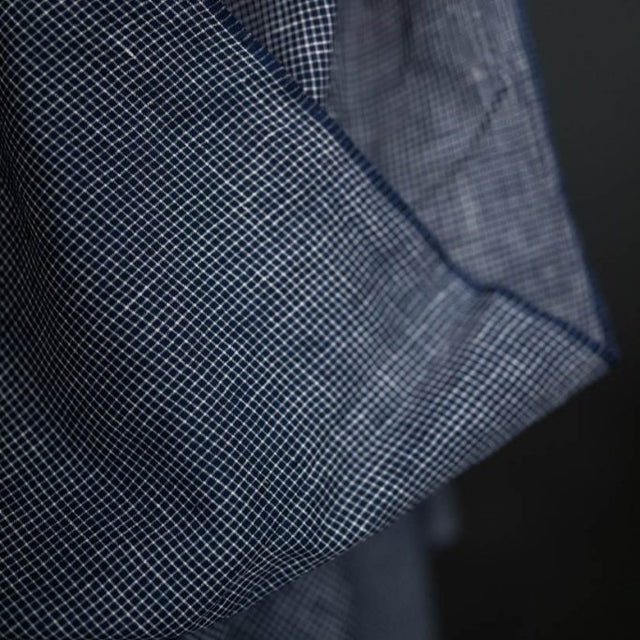 A fine white check on a dark indigo background from Merchant & Mills. This is a soft, light-weight cotton, so it would work for tops, shirts, pyjamas and dresses that are lined or have fullness.
For the first couple of washes, place the fabric in the washing machine drum at 30 or 40 degrees with a handful of table salt. This will help fix the dye to prevent it running. As our Indian cloths are handmade, sometimes susceptible to irregularities in the weave or print, this is all part of their charm and are not classed as flaws.
Please note that we cannot guarantee the product colour as each monitor and device represents colours differently. If colour is important, please contact us for a swatch.
Key Information
Merchant & Mills
Merchant & Mills:
"Everything that is produced, processed, and consumed has an impact on the earth, whether it be sustainable, organic, or not. As makers we have more choices than most. We choose colour, shape, style and fit so we can remake our favourite styles again and again knowing that we will not wear these for just a season but year on year; less is more. This is the essence of sustainable clothing. And we can also choose sustainable fabrics.
At Merchant & Mills, we are committed to offering our customers the best choices available. We thoroughly research and verify the provenance of all our cloth. We still need to do more. We still need to learn more.
Over the past two years, we've moved our core fabric collections to more sustainable options and have discontinued ranges that did not meet the right criteria. We focus on natural fibres, especially linen and we have been expanding our Hemp and Tencel offerings as these two fibres score high on the eco-charts. Where possible we have moved over our cotton ranges to an organic base. The landscape with sourcing raw materials is constantly changing so we are having to react and find the best option available at the right price for our customer. We also work closely with partners around the world to offer a selection of deadstock. Deadstock fabric is excess fabric from fashion designers, movie sets, and fabric mills that is no longer needed for the job it was originally intended for. This fabric would otherwise end up in landfill."
Manufacture + Certifications
Dimensions + Weight
width: 118cm (46in)
weight: Lightweight
stretch: 0%
Fiber Content + Care
100% Cotton
We recommend always pre-washing/drying your fabric in the same manner as you intend to wash the finished garment.
For best garment care + longevity + sustainability we recommend: Wash with cold + low spin + warm in dryer + dry flat.
This product is available.