Everyday Cotton - Burgundy
$1.81
Sale price
Everyday Cotton - Burgundy
$1.81
Sale price
Order Quantity Info
All fabric is sold in 0.1 Metre increments.
Enter quantity in

Metre

s separated by a decimal, e.g. 1.2

Meter
Studio + Pick-up
Are you local to Edmonton, Alberta? Or in the area? We invite you to use our order pick-up option, or come take a look in person at the fabrics & patterns before making your final selections.
Samples
Looking for a sample? Drop us a line and we'll send a small swatch by untracked letter mail.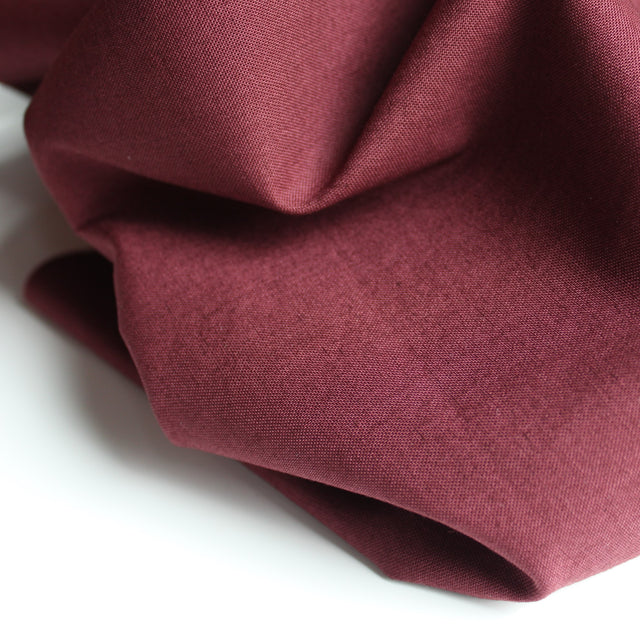 This is our 4.7oz plain weave 100% cotton. It is perfect for (almost) everything; shorts, lightweight pants, button ups, skirts, casual dresses. Some patterns that come to mind are Helen's Closet Cameron Button-up, Moss Jacket, Ruby Overalls. Or make it up into the Closet Core Pietra Pants, Cielo Dress, or Charlie Caftan
It is OEKO-TEX certified, Higg Certified and manufactured using AZO free, eco-friendly, dyes with the cold pad batch dyeing process. It is soft to the touch, with good structure.
Please note that we cannot guarantee the product colour as each monitor and device represents colours differently. If colour is important, please contact us for a swatch.

Key Information
Dimensions + Weight
width: 150cm (59in)
weight: 160gsm (4.7oz/sqy)
stretch: 0%
Fiber Content + Care
100% Cotton
We always recommend pre-washing/drying your fabric in the same manner as you intend to wash the finished garment.
For best garment care + longevity + sustainability we recommend:
Wash with cold + low spin + warm in the dryer + dry flat
Manufacture + Certification
OEKO-TEX Standard 100
FEM 3.0 Higg Index Certified
This product is available.